How about enjoying lovely sunshine while the kids are catching crabs on the beach at the waterfront?
Our comfort pitches sit on fields with a view at lake 'Veerse Meer', our private beach or our big playground. Our camper van pitches are centrally situated. Prices for these pitches are cheaper than the ones for the comfort pitches, although camper vans are allowed there as well. Pats are very welcome everywhere (on the leash). We provide dog toilets and you can even use our dog shower.

Do you want to book more than 21 consecutive overnight stays? Then contact us by mail or telephone.
Cheap Camping with ACSI-card!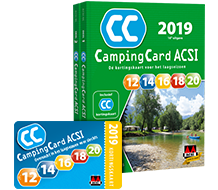 What do we offer when using your ACSI-card when camping with us?

Free WIFI
Emplacement for 2 persons with an own waterconnection, drain, electricity and televisionconnection
Use of amenities, incl. hot water at dishwashing blocks etc.
Free use of facilities
Extra people is possible, € 5 per person per night (excl. € 1,38 tourist tax).

When will the ACSI card be valid in 2022?
25/03 - 15/04
08/05 - 25/05
30/05 - 03/06
07/06 - 15/06
20/06 - 01/07
04/09 - 06/11
Camping specials
Get away for a bit during Ascension Day or Whitsunday bankholidays or celebrate the summer holidays?
These attractive camping specials make your holiday in Zeeland just a bit more fun!