Camp Site and Villa Park De Paardekreek is really a water sports paradise in Zeeland. The camp site is located on the edge of the Veerse Meer, and the Villa Park is located next to the camping site, with a winding water garden. Enjoying the water is a main priority at De Paardekreek. You can easily take to the water in a boat or on a surfboard. Both novice and advanced water sports enthusiasts feel completely at home at De Paardekreek.
"Staying together at Veerse Meer!"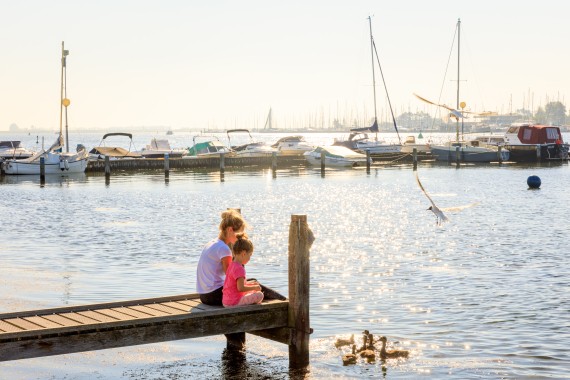 Autumn holidays in Zeeland
No plans for the upcoming autumn holidays yet?
A stay at Veerse Meer is always a good idea.
Rent a luxury bungalow at the villa park, come camping with your own caravan/camper or spend the night in one of our comfortable lodges. Want to spend the night in a unique and original way? Then book a stay in the Zeeuwse Dijksuite or sleep on the water in one of the Veerse Meersuites.
A holiday at De Paardekreek is one you will never forget!
Will De Paardekreek be the winner?
The Zeeuwse Dijksuites have been nominated for the Camping of the Year elections in the 'Most unusual rental accommodation' category. How much fun would it be to win this title? For that, we need your help!
You can vote from 8 July to 31 October 2023.

Vote now!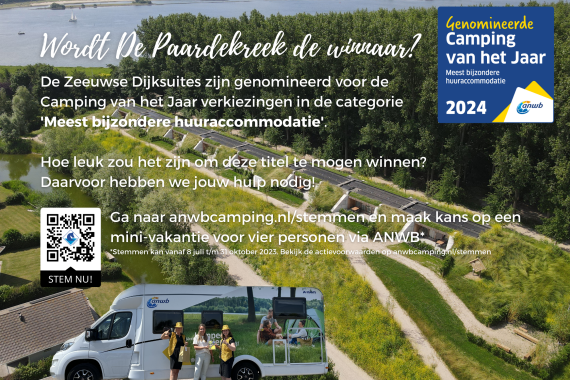 Specials and offers
Celebrate your holiday at Camping and Villapark de Paardekreek with your family and friends. Camping at one of our comfy comfort pitches or stauing in a luxurious lodge or a real house.


Holiday at de Paardekreek!