Kortgene is a buzzing and touristy villa on the lake Veerse Meer!
Being a visitor and guest of De Paardekreek you'll experience the real holiday feeling waking up on the waterfront and walking into the village. In the heart of Kortgene you'll find several little shops, a supermarket, a butcher, a baker and much more! Kortgene's centre is at walking distance from the campsite!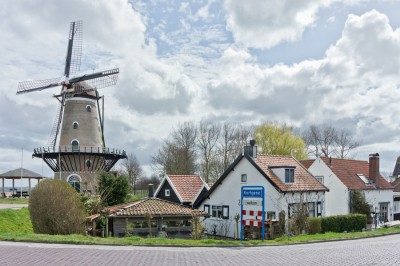 Town walk through Kortgene
A town walk was made in the village. Why name it a town walk in the village of Kortgene? Kortgene used to have town rights, that's why! During this walk through Kortgene you'll come across what used to be a horsloer, you can see how high the floods of 1953 came, find out about the story of the clock of the church tower and numerous other special places. The town walk is about 5 km long. You can get it at reception.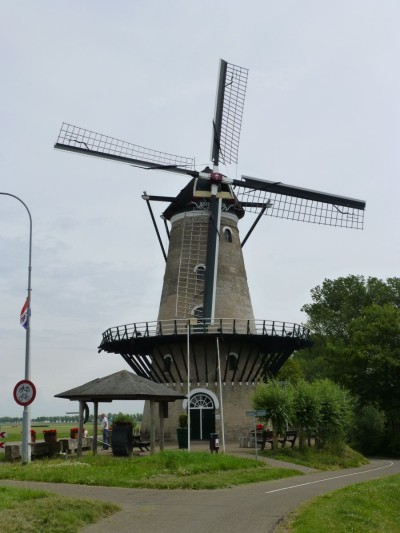 Mill 'De Korenbloem'
At the beginning of Kortgene sits the mill 'De Korenbloem'. In 2011 the renovation on this mill was completed. It's a gem for the village of Kortgene. Several types of flour are being ground here and are for sale in the shop. Wheat, rye, spelt and pancake flour but also many cute creative, hand made presents. The mill is open to visitors on Saturdays and if the miller is present he'll tell you about 'De Korenbloem' with pleasure.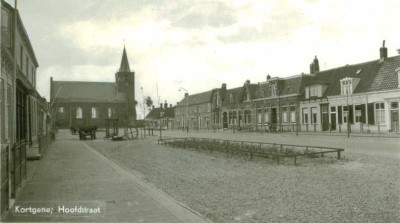 History
The village of Kortgene was a town during the Middle Ages. A couple of big floods ended this at the beginning of the 16th century and the old 'Cortgene' was wiped off the map. The history about the clock of Kortgene is interesting too, it's name being 'Susanne'.
It seems the clock was brought to Zeeland during the war with France in 1674, from the island of Normoutier in Vendee. In 1942 the occupier took it away and it landed on the bottom of the lake IJsselmeer and after the liberation it was picked up again.

Kortgene has special town rights. They were of great influence when during the first years of the 19th century the civil grounds were rearranged. Because of these rights that didn't happen in Kortgene. In 1996 Kortgene lost its independance, now it belongs to the council district Noord-Beveland. Renowned is the ferry Kortgene-Wolphaartsdijk, which was the main connection with the main land till 1 October 1960. Back then it was the only ferry suited to take cars. Because of the building of the sluice in 1960 and the Veerse Gatdam (a dam). Kortgene was situated at lake Veerse Meer. Now, from April to September a ferry transports bikers and walkers to the other side. You'll find the timetable at reception. A fun crossing when you cycle round lake Veerse Meer.